August 28, 2005
As previously discussed, Randi Rhodes made a very special surprise guest appearance on the Brad Show/Laura Flanders Show simulcast live from Camp Casey in Crawford TX.
There's a picture of Randi and a couple of Laura here, which includes this heartwarming news:
Rumor has it we'll hear from Rev. Al Sharpton, Randi Rhodes and perhaps Martin Sheen (the real President of the United States [today]...Perhaps he'll be able to tell us what the "noble cause" is.)
Meanwhile, the Houston Democrats missed Randi's appareance, but they do have a picture of Joan Baez (hey, some people are into that, and this is a non-judgemental site).
Last week, Air America's San Diego outlet AM 1360 KLSD, sent their Stacy Taylor to the festivities. A video clip is here, uninteresting pictures are here.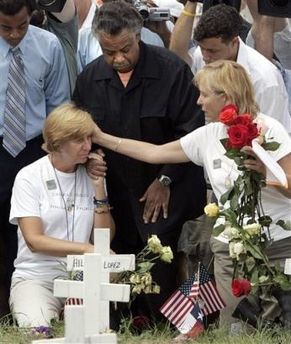 This site has another picture of Joan Baez (look, it's not my place to ask questions about personal preferences). They also have a sign suggesting that Bush send the twins. Indeed.
Meanwhile, AAR's Phoenix outlet KXXT Talk 1010 AM, has converted their site into pimping Cindy's cause. They've even created a whole new site dedicated to that effort: CrawfordOrBust.com.
The attractive Kim Macias, who appears to be in their advertising department, swooned but has recovered. Check out those prices! Just $15 for 15 minutes of air time on a barely-listened-to "liberal" station? (There's also another picture of Joan Baez further down the page. Hey, who am I to judge?)
UPDATE: Pictured right is the Rev. Al Sharpton's appearance. However, that picture doesn't show you everything that was going on. Click here for the wider shot showing what else was happening. You probably won't be surprised. CNN informs us that the Right Rev. felt "compelled" to meet Cindy.
Posted in RandiRhodes at August 28, 2005 11:58 AM
Monitoring Air America Radio [TM] so you don't have to.